Unofficial end to Harvest!
Karl put together for 14 of the staff a very exciting and informative evening. We have here at Johner quite an international line up of staff, with Kiwis, Germans, Swiss & French!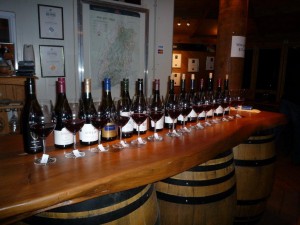 Karl gathered together 14 different Pinot Noirs to give us all the opportunity to gain an overview of Pinot Noirs. They were Wairarapa Wines except for two which came from Central Otago. This tasting was conducted as a blind tasting and of recently released 2009 Pinot Noir wines.
Karl kept the bottles covered as we tasted the wines. 14 glasses of Pinot Noir wine certainly looked very impressive as we arrived at our delightful cellar door. At this blind tasting everyone gave points out of 20 and then had to vote for the overall winner.
Interesting enough the most positive comments were awarded to Escarpment, but for Karl the Ata Rangi Pinot was top notch. The tasting panel showed quite a preference to Te Muna Road Pinot Noir.
In this tasting the wines were revealed according to the most liked which meant that the Air NZ Trophy winner & the top grade wines from Matthew Dukes and Tyson Stellzer got revealed reasonably late in the proceedings! Our own Johner wines were quite a favourite for the French due to their more European approach. It was good to see our Pinots averaged in the middle of preference overall.
This research was carried out in a very professional manner and we were very fortunate to have had this opportunity to smell, taste and see the differences between the Pinots. All in all they are not too far apart from each other!