Manawatu Home Show
20 – 22 July 2012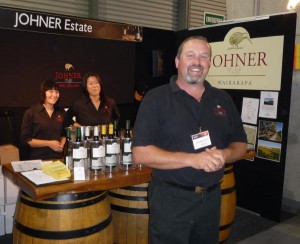 Steven Bates (vineyard manager, pictured above) and the team from Johner Estate will be offering a delicious range of tastings (generous as always!) at stand number 542.
We have a superb 'Special Tasting Experience' which you won't want to miss and all sorts of other surprises at the event including customised cases and a super Pinot Noir offer. We will look forward to seeing you there!
Of course if you cannot make it along to the Home Show in Palmerston North, we would love to see you at Johner Estate Vineyard where you will be sure of a fun and informative tasting hour…. or two!
Do contact us if there is any further information you would like regarding the Manawatu Home Show or Johner Estate.
Phone: 06 370 8217