Christmas is just around the corner. It has been a few busy weeks at Johner Estate, inside and outside.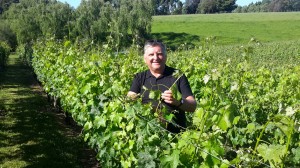 Due to a beautiful and hot spring, the growth of the wines went a "bit crazy". We are ahead of the previous seasons in regards to growth and maturity which is fantastic. Pre-bunch closure and Bunch closure is nearly over and we are busy with Canopy Management. The team is under pressure to put wires up, tying the wires together with clips, leaf blowing and irrigating the plants.
It looks as if the vines got caught into the pre-Christmas rush as well.
In the winery, we were bottling different wines, so that we can supply all our customers with their favourite wines and be able to release some new vintages in the near future.
Yes, our Chardonnay Methode Traditionnelle is back in stock.
In time to celebrate the New Year!!
So don't hesitate to visit us.
Our tasting room will be open at our usual opening times from 10:00am to 16:30pm daily, except of Christmas Day.