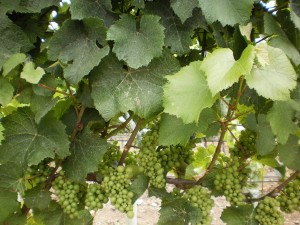 And a happy and prosperous New Year to you all!
There was a lovely little drop of much needed rain last night and we are experiencing some perfect summer weather with temperatures occasionally reaching 31 degrees! We are hoping for a wonderful vintage 2013. Vineyard tasks currently include trimming vines and raising the horizontal wires that hold all that lush growth in nice, neat and manageable rows.
Have you had a chance to try our Rose 2012 over the summer? It is the perfect accompaniment to a late and long lunch of fresh bread, charcuterie and camembert, perhaps sitting under a tree in the garden, and is a super price at just $162.00 per case, including courier. Alternatively please contact us if you would like our Summer Tempter case couriered to your door.
Summer Tempter $280 (including courier)
Chardonnay Methode Traditionelle 2009 (3) Elegant fresh, intense floral and citrus aromas.
Pinot Gris 2012 (3) White stonefruit with a delicious little oak spiciness.
Rose 2012 (3) Refreshing off dry cherry and raspberry fruit flavours.
Pinot Noir Reserve 2010 (3) Restrained cherry fruit and herbal characteristics.